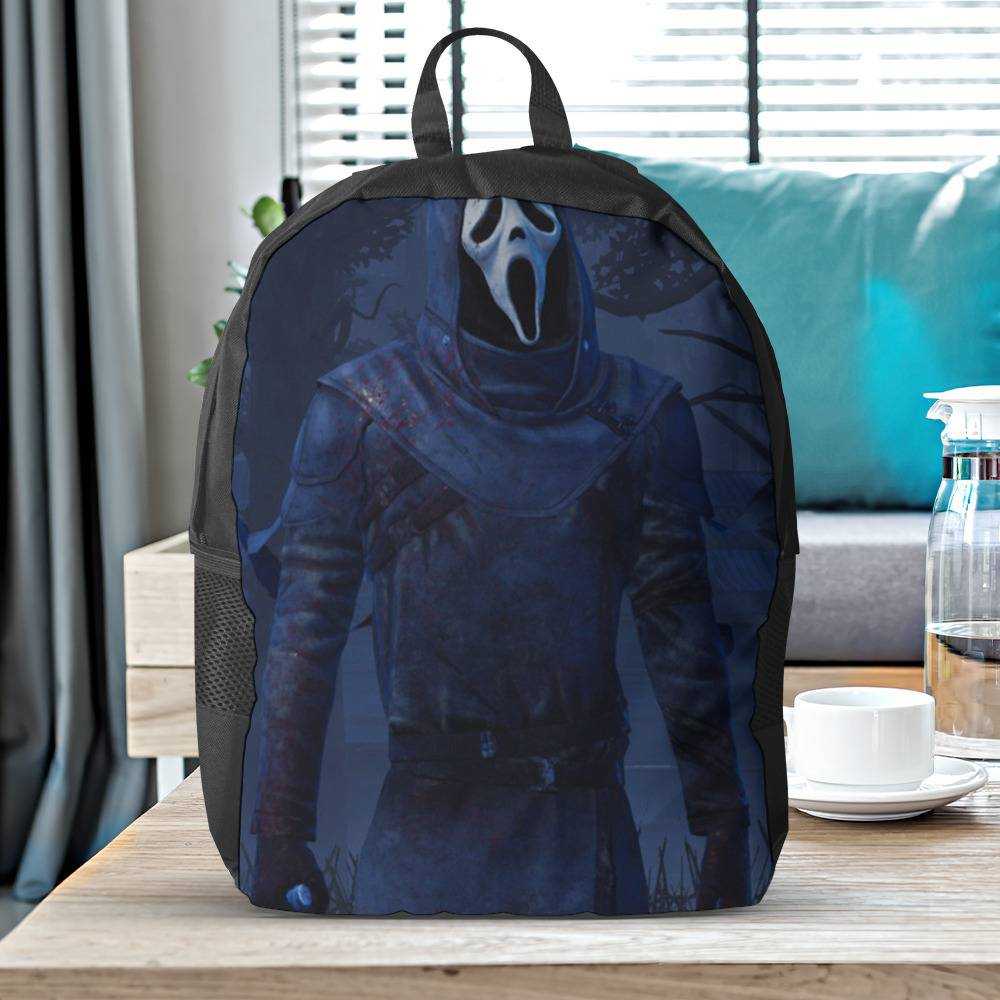 Dead By Daylight Backpack Ghostface DLC EU Steam Altergift Backpack
description

Design your everyday with Dead By Daylight backpack you will love to snuggle up with. Match your style with patterns and designs from our professional design team. Original design. Create a personalized gift with a photo of Dead By Daylight.
Material: This backpack is made of water resistant and durable Oxford cloth with metal zippers.
Product Size: 16.5" * 12.5" * 5.5"
Applicable People: Recommended for Age 6+
Applicable Scene: School, travel, climbing, shopping, zoo, park, outdoor sports, etc.
shipping

Free shipping for orders over $49

You can choose the shipping method during checkout:

Standard shipping: $7.99

Arrives 7-15 business days after the production time

Express Shipping: $29.95

Delivery 4-6 business days after the production time
This Is Dead By Daylight Merch Shop
Welcome to Dead By Daylight Merch Shop. This is a stylish shop. We set the shop for all the Dead By Daylight fans who are eager to have some Dead By Daylight collections but there is not a shop that can be trusted. Maybe you have some concerns like quality, price, shipment, and so on, but now you need not worry about that because we also put customer satisfaction first.
At our Dead By Daylight Merch Shop, we stock a wide range of Dead By Daylight merchandise. If you have any questions such as the shipping, or price problem. We have our pages regarding all of this clarification. Your concerns will be answered on these pages shipping, price, and more. All of these things are mentioned in the FAQ page at the bottom of this page. We understand the joy you could feel by collecting the things that remind you of your favorite idol.
So get your favorite Dead By Daylight merchandise and use it with pride.
What Is Dead By Daylight?
Dead by Daylight is a survival horror game developed and published by Behaviour Interactive and released on PC on June 14, 2016. It can be played on PC (Steam platform/Epic platform/Microsoft store)/X1/XBox One/PS4/PS5/NS platform, and the mobile game version is now available.
The player's perspective of the game playing the killer is a first-person perspective, with powerful abilities, and can also use special abilities to track fugitives. The four players who play the fugitives have a third-person perspective, allowing for a better view of their surroundings. Players must make brutal and correct decisions under intense pressure.
What's in Dead By Daylight Merch Shop?
We are proud to be one of the best Dead By Daylight Merch Store selling custom clothing and other stuff. This is a perfect shop for Dead By Daylight fans to buy Dead By Daylight merchandise in various styles and sizes.
Dead By Daylight T-shirt: Playing Dead By Daylight in a Dead By Daylight T-shirt is a happy thing. It can make you excited. Dead By Daylight T-shirt is a fine fabric, highly breathable, and gives ultimate comfort to your body. The Dead By Daylight clothing items are stitched properly, you won't see any flaws.
Dead By Daylight Pillow: Dead By Daylight pillows are soft and comfortable. Holding it in your arms can provide warmth and some protection. Hold a Dead By Daylight pillow while sitting or lying down on the sofa, and decorate your sofa while relaxing your body. A soft and comfortable Dead By Daylight pillow can give you a warm feeling when watching TV, chatting, or resting on the sofa.
At work, Dead By Daylight pillows are the best partner for you to rest and work. It can make your work full of energy. Not only does it give you more peace of mind when you rest, but it also allows you to have a more comfortable backrest while they work.
Our Mission - Dead By Daylight Merch Shop Promises
Shop here and enjoy
Fast Shipment
Affordable Price
Top Quality
Customer First